Weekly Memo
March 14 - March 18, 2022
CELEBRATING THE FEAST OF ST. JOSEPH
WITH MASS & DONUTS WITH DAD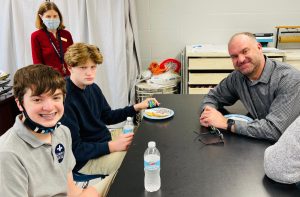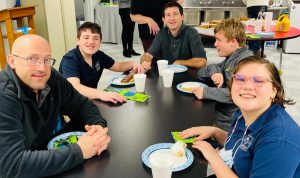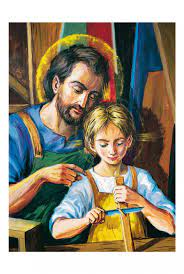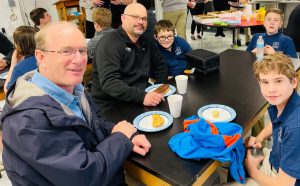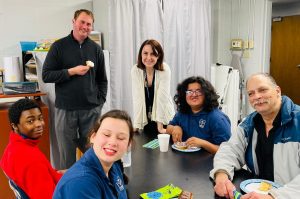 St. Joseph Parish
Manchester
FISH FRY
March 4-April 8, 2022
3 Fridays Left!

4:30 p.m -7:15 p.m.
Cost: Entree $4
Sides $2.50
No Dine In.
Order online or from the Drive Thru.
PRIMUS INTER PARES
Each week a student will be chosen to be interviewed by a fellow student so we can get to know each other better. The Latin "Primus Inter Pares" was chosen because it was the language of the Roman Empire where Jesus was born. In English, "Primus Inter Pares" means first among equals.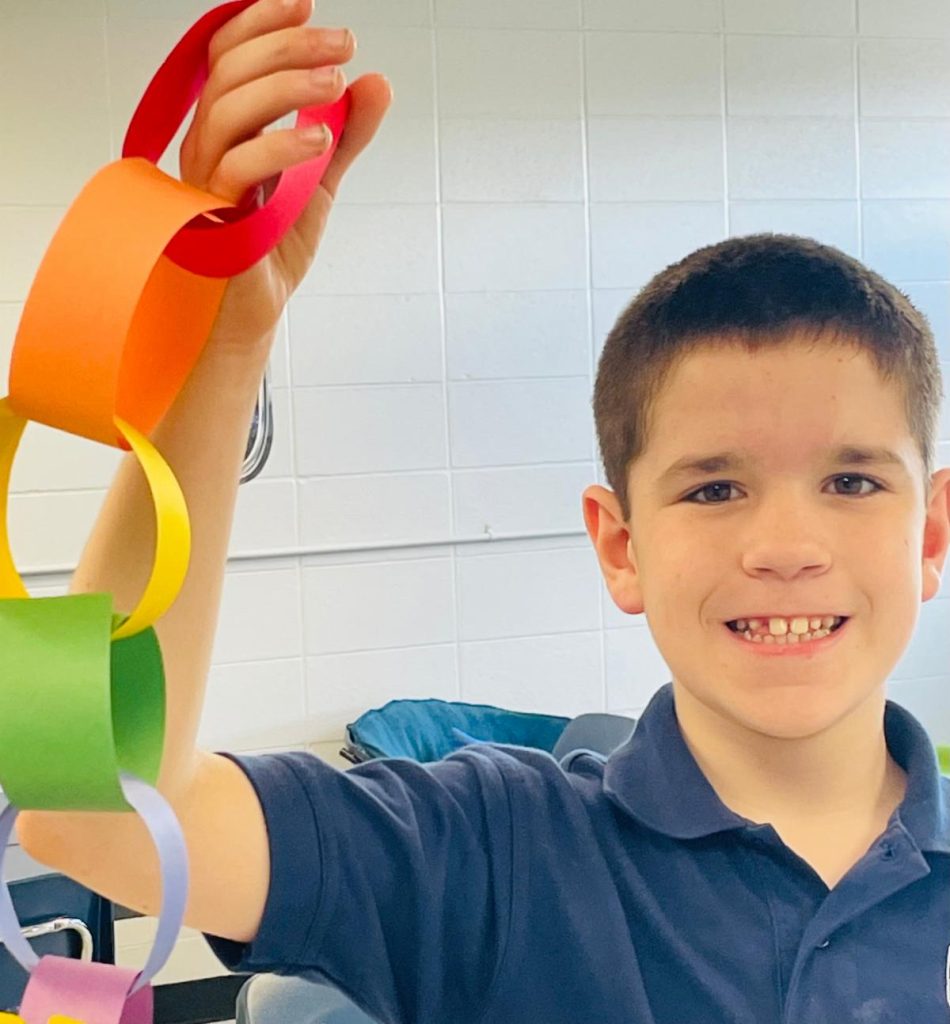 Rolan Burkemper
Rolan is 12 years old and is in 6th grade. He was born in St. Louis, Missouri. He has a younger sister named Josie and he says he is a lot like his mom and dad. They have two cats and three fish. He likes playing video games and board games in the basement. His family went on a trip to Disney world.
Rolan's favorite color is blue and his favorite food is sushi. He loves the book series the Diary of a Wimpy Kid and the Diary of an 8-Bit Warrior. Rolan is part of the Environmental Club. Math is Rolan's hardest subject at school and PE is his favorite subject. Rolan's favorite game in the gym is Sharks and Minnows. He likes creating with clay and hIs favorite thing to do outside is climb. He likes watching Anime and listening to video game music. If he could only take one thing to a deserted island, he would take a survival kit with food and water. The hardest thing Rolan has done is making decisions. Rolan wants to work in the science field when he grows up.
Interviewed by
John Paul Lagos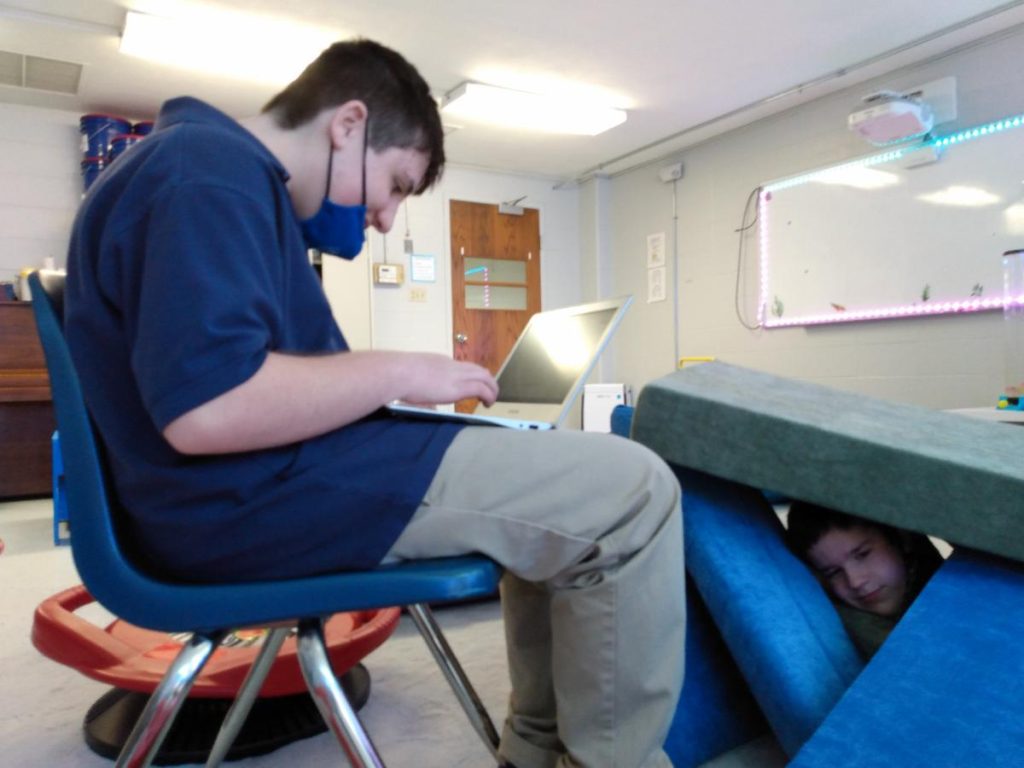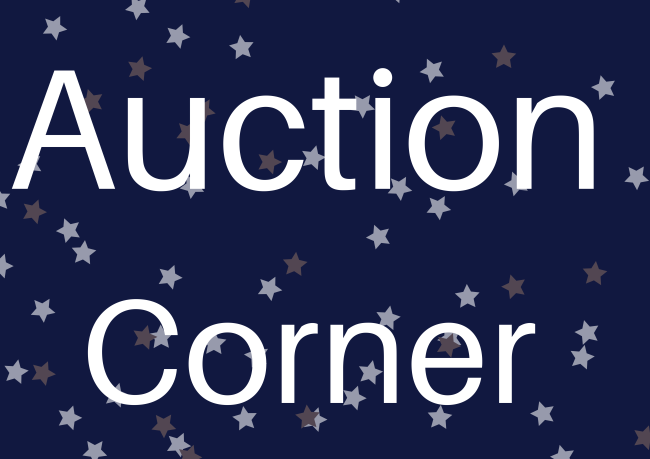 The 2022 Auction is
5 WEEKS AWAY.
ALL FAMILY AUCTION ITEMS ARE NOW DUE!
Please turn in the following items to the Office after Spring Break, if you have not done so already:
Gift Cards ($300)
$10 Raffle ($250)
Best of Live Tx ($200)
Ads Totally $250
Please deliver to Ann Dunn's House, if you have not done so already:
5 Silent Auction Baskets ($150 Value)
1 Extra-Ordinary Item
($250 Value)
3 Bottles of Liquor
For any questions, call
Kelly Winter at
636-368-6274 or
Email
Go to the Auction Website
to purchase Raffle Tickets, Dinner Tickets and Sponsorships.
PRE-AUCTION
ONLINE BIDDING!

Bidding Closes THIS SUNDAY at 5 p.m.
(4) HAMILTON TICKETS
These are hard to find!
Almost Impossible to get!
Amazing Seats!
April 21, 2022
Center Section
Section OR03
Row M
Four Seats-101, 103, 105, 107
Excellent SEATS!

Hottest Ticket in Town!
Another Newsflash from the Academy Student Auction Performers:
Message from
Mrs. Ann Dunn
Practice is moving along very well!
The night of the auction, the girls are asked to dress up in pretty dresses and the boys are asked to wear their uniform pants and white Academy short sleeve shirts. If you only have blue shirts please just wear a white polo shirt with no logo (except Academy Logo). All students will stay in the classrooms with supervision for the evening except during the performance time. They are free to bring their games, and other forms of their favorite entertainment. They will be served snacks and dinner in the classrooms.
I am EXCITED for the auction night for all the parents to see the students perform. They are working hard and are just so precious!
If at any time after the student performance, parents would like to have someone pick up their child to be taken home, that is fine. The auction does last until 10:00, which can be past bedtime for some students, and parents are asked to stay to assist with the cleanup, making it a late night for some children if they stay until the end.
Thank you and enjoy Spring Break!!!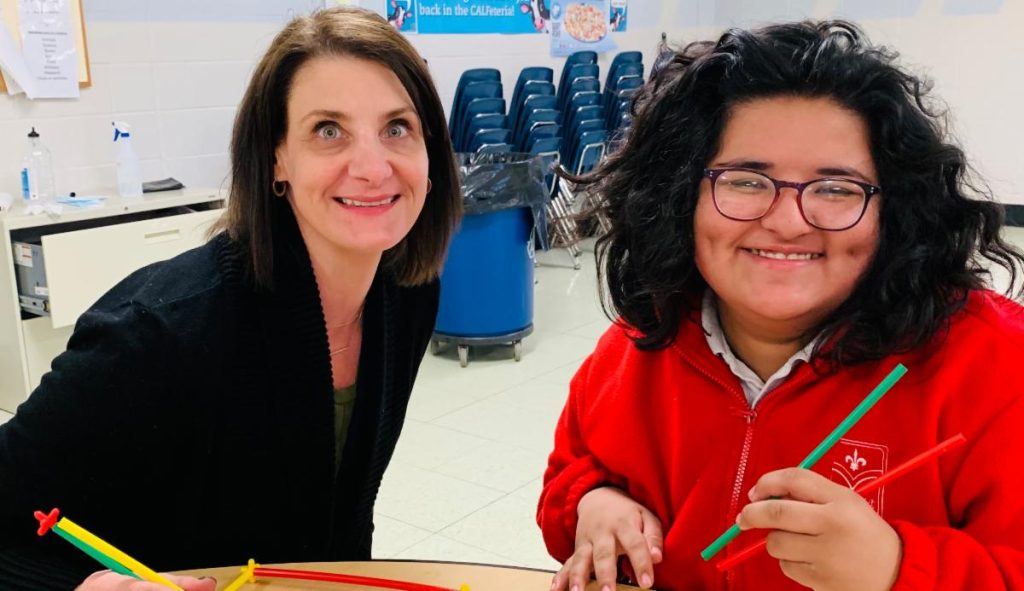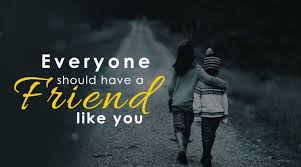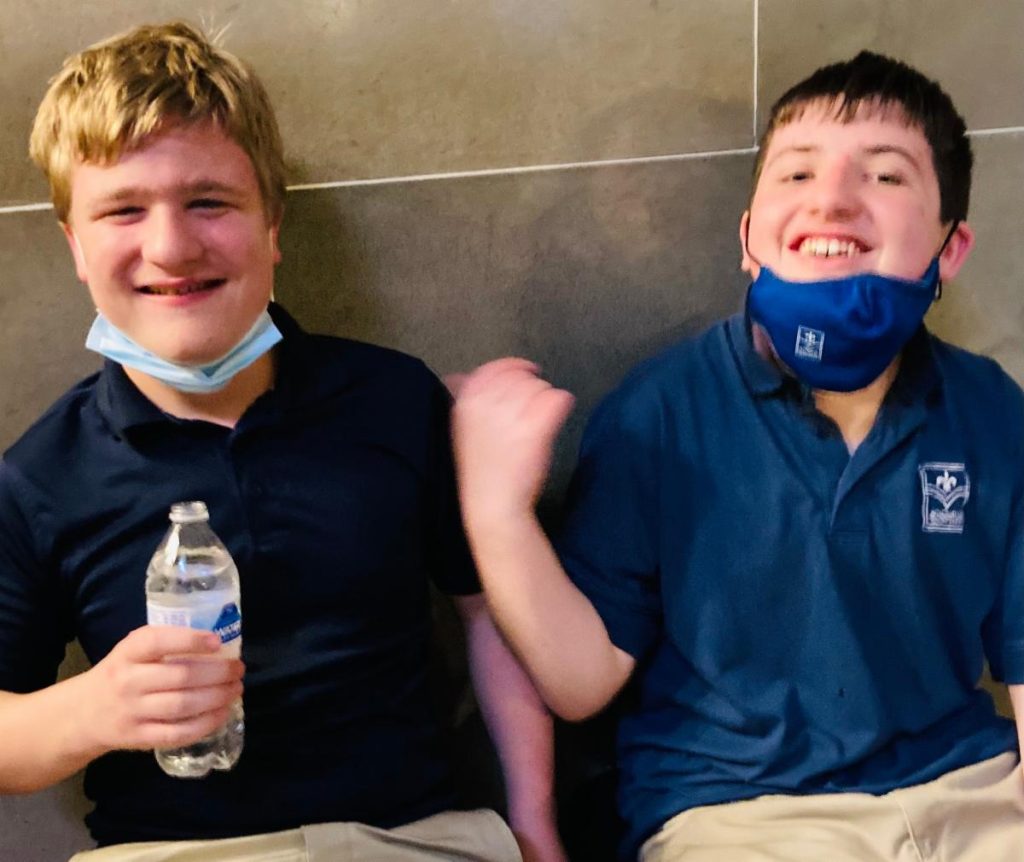 IMPORTANT UPCOMING DATES
Mar. 21st through 25th-Spring Break
Mon, Mar. 28th-School Resumes
Mon, Mar. 28th-Rm 1 Field Trip to Library
Wed, Mar. 30th-Rm 4 Field Trip to Art Museum
Thur, Mar. 31st-Rm 3 Field Trip to Jeff City
Fri, April 1st- NO SCHOOL
Every Friday, in your child's backpack, you should be receiving the "Friday Folder." This folder contains work from your student for the week as well as communication from the Academy. Please check over the weekend and sign and Return on Monday.
Elementary
We have completed our testing!! Great job class. Our next field trip will be to the Daniel Boone Library, March 28, 2022. Please sign and send back permission slips.
For St. Patrick's Day, we talked about the history of the Feast Day and made our own unique Leprechauns. Our class is working on Social Skills with structured and unstructured free choice time. During Center Time, we worked on individual goals in the areas of math, reading, writing, and independent work.
We are in our last quarter of the year. All of the students have made great gains with their goals. Enjoy and have a safe Spring Break!!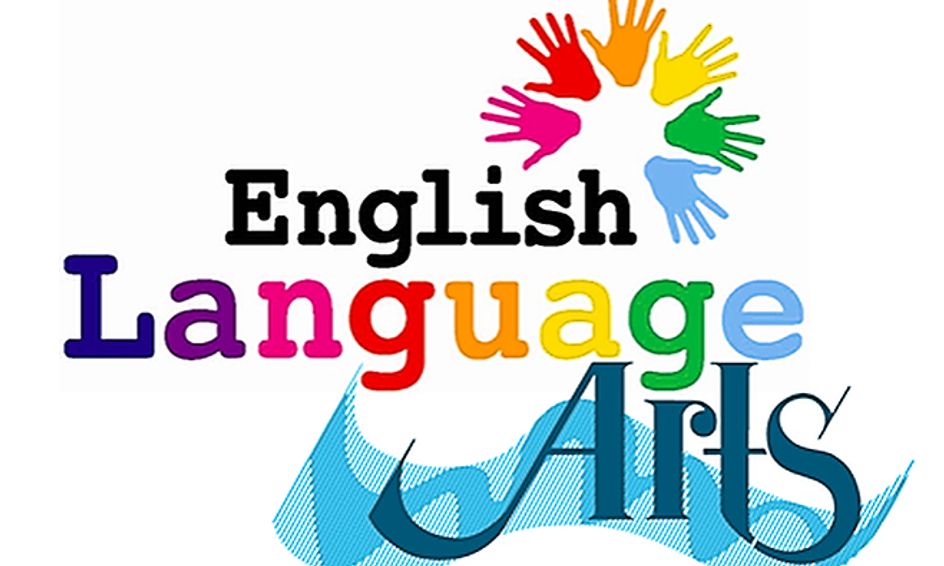 Middle School 1
Middle School 2
High School
This week we expanded our creative writing skills by including additional topic cards in our daily journal entries. We also continued to sharpen our vocabulary skills with our individualized lessons in Wordly Wise! Most of the students ended the week with a unit test and will begin a new lesson after spring break! Middle school classes will be starting the Novel "Tuck Everlasting" when classes resume.
Be sure to keep track of any reading you do over spring break for Bonus Points!!!
__________________
Thank you to all the parents who remembered to SIGN OFF on their child's READING LOG each night.
High school continued working through the functions of the Executive Branch by breaking down different government agencies within the bureaucracy and comparing the fiscal policy with the monetary policy.
Our entire class enjoyed seeing where these policies are discussed here in Missouri during our visit to the Missouri State Capitol.
High School students continue to study fractions. Many of the students started multiplying and dividing fractions.
Middle School 1 and Middle School 2 are learning the ins and outs of multiplication. We are also working on identifying when you would use multiplication to solve a problem.
MRS. JACQUIN
Middle School 2
In Social Studies this week, we learned about The Cold War and Communism. We also started studying the Women's Movement. After Spring break, we will begin discussing some of the challenges the U.S. faces today.
MRS. ROETHLISBERGER
Middle School 1
The students learned about slavery during the 1800's before the Civil War. They also studied the Underground Railroad and the amazing stories connected to it.
After Spring Break, the students will complete a Biography Project on a hero who helped with the Underground Railroad.

Middle School 1 and Middle School 2 students
have been learning about the Nitrogen Cycle (a repeating cycle of processes where nitrogen changes form and moves through living and nonliving things). They have also been introduced to the benefits of composting. After Spring Break they will study terrestrial and aquatic biomes.
High School learned about the Skeletal and Muscular system. Those are the final two systems in the human body that we are going to cover. After Spring Break, the students will review all the body systems and have a Chapter Test. The test is expected to be on Thursday, March 31st.
Elementary continues to study about the Sacraments of the Church. We are learning about Reconciliation and Holy Eucharist. The children enjoyed practicing receiving Holy Communion. We also learned about the true story of St. Patrick.
Middle School 1 and
Middle School 2
are studying about the Seven Sacraments. This week we focused on Baptism. We also learned about St. Patrick. We learned how he overcame being captured by pirates. He was enslaved, and eventually ordained a Bishop. We also learned how he was instrumental in converting the Irish tribal people to believe in God. The students learned that he was born around 385 A.D. and died when he was 73.
High School
We are studying about true, authentic love. How love is far more than an emotion. It's fruitful, sacrificial, and wills the good of the other. We watched a moving video of a father who gave up his life to save his son. If you'd like to watch, click here:
https://www.youtube.com/watch?v=WPcxeUG-9Yc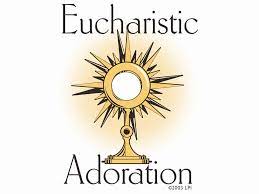 Each Tuesday during lunch, a different class spends 10 minutes in the Adoration Chapel where they can sit quietly and talk with God. After Adoration, we go to Culver's for lunch.
After Spring Break is the High School's turn!
WRITING WITH MR. NOTESTINE
Middle School 1 Middle School 2
High School
Mr. Notestine was out of town this week but will return after Spring Break. The students all had writing assignments in class with their homeroom teachers.
TRANSITION WITH MRS. WALZ
The Essential Skills class continues to work on making purchases with cash or a credit card. Recent trips include Target, Aldi, Culvers and Mobil On the Run. In addition, this week we visited The World Bird Sanctuary and Lone Elk Park. A fun time was had by all; however, things were a little tense when a large, male bison blocked the road. The bison continued to walk down the road, stopping a few feet from the van before going to the side of the road to eat grass!! I'm just glad he settled for a vegetarian lunch!!
Middle School 1 and Middle School 2 classes finished a unit on Workplace Social Skills, and they are now working on perfecting the interviewing process.
I would like to thank Mrs. Jacquin, Ms. Ellison, and Ms. Winter for working with the classes while I pull students to address specific interests on an individual basis!
The High School transition class just finished a Junior Achievement unit on Soft Skills in the Workplace. Another shout-out to Mrs. Hodge, Mrs. Cook, and Ms. Patrin for their help during individual sessions!
Girl's Club
On Thursday's, the five Middle School and High School girls meet for lunch. We eat together and do fun activities. Last week, the girls made tie-dyed t-shirts. This week, on St. Patrick's day, the girls wanted to pull some "shenanigans on the wee little ones" in the Elementary Class. They made a scavenger hunt throughout the school ending in a green frisbee full of treats. Check out the fun pictures.
Running Club will resume on
Thursday, March 31st at 2:45 pm.
The Environmental club met for lunch this past Wednesday. We explored the future of Hydro tower gardening. We look forward to having our own Hydro garden when we return from spring break. We'll keep you posted on its progress!
Speech and Debate Club will resume on Tuesday, March 29th at 2:45 pm.
In Art this week, we caught up with any Art projects that they may have missed due to auction practice or field trips. We will be ready to start our "Secret Auction Project" when we return from Spring Break.
ABSENT OR LATE
Call 636-534-5099 or Email colleen@acadstl.org
ASTL STARS
Supporting Teachers Reaching Students
(Parent Association)
MOM'S NIGHT OUT
Our Mom's Night out was a lot of fun. Thanks to Kathy Synder for hosting and all the moms that attended. We shared many stories and got to know each other a little better. We look forward to the next one soon.
DAD'S NIGHT OUT
Details to be
announced soon.