Application Process Breakdown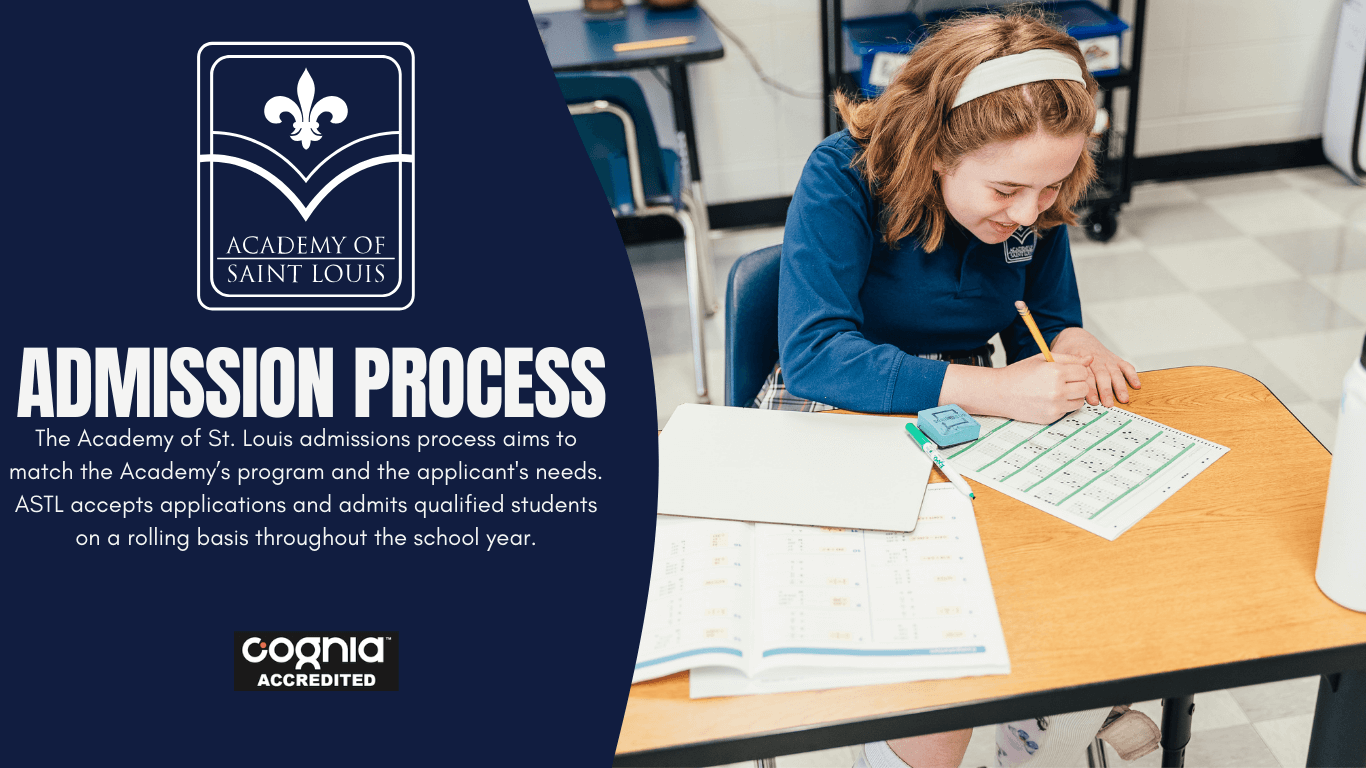 1. Intake Conversation
These initial conversations let us learn more about your child's learning profile and unique needs. This is the first step in deciding if ASTL is an option for your child. An in-person interview and tour will be scheduled if appropriate.
At least two days before the tour, you must submit a copy of your child's most recent IEP and a copy of your child's most recent diagnostic/educational evaluations (medical and educational). Please let us know when scheduling if your child does not have these.
2. Parent Tour and Interview
When you come in for your interview and tour, you will have the opportunity to see classes in action and meet with the principal.
3. Student Visit -Shadow
Students will be asked to attend a two-hour visit to the school. The visit includes participation in class activities, informal observation by our staff, and a brief interview with the Admissions Team. This time allows the student to experience our school environment and allows our Admissions Team and faculty to observe your child's learning style.
4. Submit Application
The informational folder will contain the application for admission along with release forms, which should be completed and emailed/mailed to our office along with supporting documentation. If our committee needs more information, we may request a conversation with a child's teacher or clarify details with parents. Applications are considered complete when the following documents have been received:
School Application (provided)
Special School District Release Form (if applicable; provided)
A copy of your child's most recent IEP
A non-refundable $50 application fee
A student photo
Intake Release Form (provided)
A copy of your child's most recent diagnostic/educational evaluations – educational and medical
A copy of your child's most recent report card or unofficial transcript (high school only)
5. Review and Decision
The Admissions Committee will review the submitted materials when they receive the above information. Applicants are considered without regard to race, sex, age, religion, or ethnic origin, and applicants are assessed individually by gathering feedback from many perspectives and reviewing diagnostic information. Following this review, the next steps in the admissions process may vary:
Students may be offered acceptance based on their application alone without additional assessment.
Students may be asked to attend an additional student visit or an interview with the Admissions Team.
If an offer for acceptance is made, parents will begin the enrollment process. Should classes be full, your child will be placed on a waiting list for the next available space in an appropriate classroom.
Academy of St. Louis serves students whose diagnoses fall within the school's mission. All applicants are assessed individually by gathering feedback from many perspectives and reviewing diagnostic information. Academy of St. Louis may only be the best fit for some students. You will be notified if our program is not an appropriate placement for your child. We will try to make suggestions regarding other school options that might be pursued.
6. Enrollment
If accepted, you will complete the registration paperwork. This includes all releases and medical information. A $700 non-refundable registration fee is needed to secure your child's spot. This fee includes all books, technology, and school supplies.
7. Financial Assistance
A Financial Aid application will be provided upon request.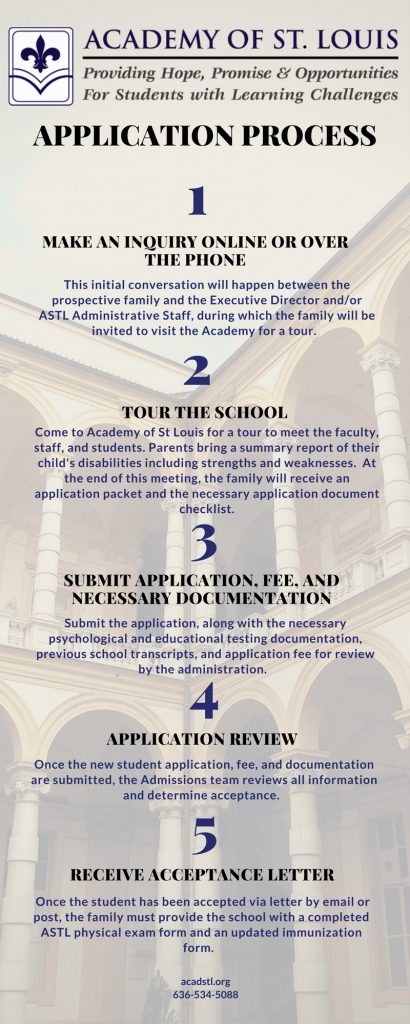 Follow this simple step-by-step guide to submitting an application to the Academy of St. Louis for your child.  We welcome all students and their families to tour our school and meet our staff!  We hope to provide the perfect environment for your child.
First, family makes an inquiry online or over the phone.  The initial conversation happens between the prospective family and the Executive Director and/or ASTL Administrative Staff, during which the family is invited to visit the Academy for a tour.


Next, family comes to Academy of St Louis for a tour to meet the faculty, staff, and students. Also, parents need to bring a summary report of their child's disabilities, including strengths and weaknesses.  At the end of this meeting, the family will receive an application packet and necessary application document checklist.  

Then, t

he prospective family submits their application, along with the necessary psychological and educational testing documentation, previous school transcripts, and application fee of $750 for review by the administration. Additionally, ASTL has the option of requesting documentation from previous schools on the student's behalf to make this step easier for the prospective family.

A

cademy of St Louis has a rolling admission process as space allows, accepting applications year round. So re-registration for previous students is due the first Friday in March each year.  So once the new student application, fee, and documentation are submitted, we review all information and determine acceptance.

Finally, t

he student's family will receive a formal acceptance letter via email or post. Once the student reaches accepted status, the family provides the school with a completed ASTL physical exam form and an updated immunization form.  
Please look under our Resources tab for more information.  
Thank you for your interest in the ASTL Application Process.
We look forward to meeting you and your child.