Application Process Breakdown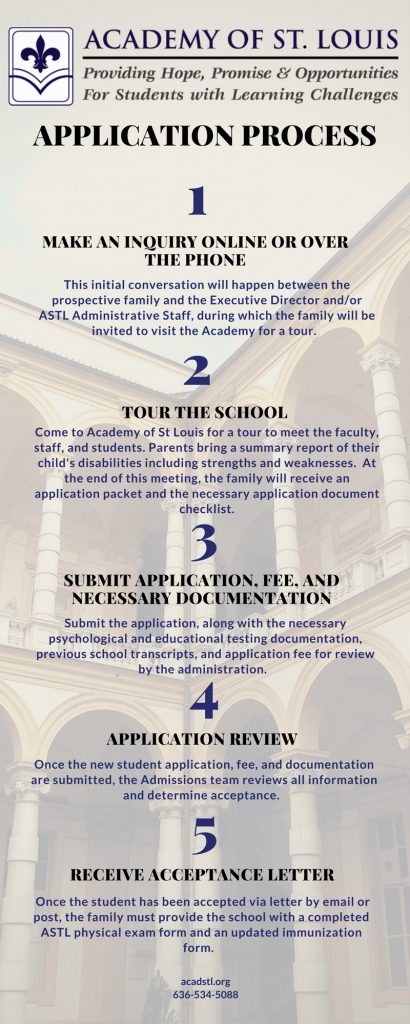 Follow this simple step-by-step guide to submitting an application to the Academy of St. Louis for your child.  We welcome all students and their families to tour our school and meet our staff!  We hope to provide the perfect environment for your child.
First, family makes an inquiry online or over the phone.  The initial conversation happens between the prospective family and the Executive Director and/or ASTL Administrative Staff, during which the family is invited to visit the Academy for a tour.


Next, family comes to Academy of St Louis for a tour to meet the faculty, staff, and students. Also, parents need to bring a summary report of their child's disabilities, including strengths and weaknesses.  At the end of this meeting, the family will receive an application packet and necessary application document checklist.  

Then, t

he prospective family submits their application, along with the necessary psychological and educational testing documentation, previous school transcripts, and application fee of $750 for review by the administration. Additionally, ASTL has the option of requesting documentation from previous schools on the student's behalf to make this step easier for the prospective family.

A

cademy of St Louis has a rolling admission process as space allows, accepting applications year round. So re-registration for previous students is due the first Friday in March each year.  So once the new student application, fee, and documentation are submitted, we review all information and determine acceptance.

Finally, t

he student's family will receive a formal acceptance letter via email or post. Once the student reaches accepted status, the family provides the school with a completed ASTL physical exam form and an updated immunization form.  
Please look under our Resources tab for more information.  
Thank you for your interest in the ASTL Application Process.
We look forward to meeting you and your child.